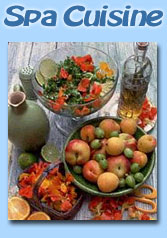 A taste of heaven!
Enjoy some of these latest and greatest spa recipes in your own home.
Recipes featured on our web site have been provided by some of our participating Day Spas and visitors to the site.
If you would like to share a recipe please email us.





Italian Omelet
3/4 cup egg substitute
1 tablespoon chopped fresh basil
1 roma tomato, diced
1 ounce crumpled feta cheese
Spray a large nonstick skillet with cooking spray and heat over medium-low heat. Add egg substitute and cook over medium-low heat. Gently lift cooked edges and tilt the pan to allow liquid egg substitute to flow under cooked portion. Continue this until all liquid portion of egg is gone. Gently flip cooked egg with wide spatula and place basil, diced tomatoes and feta cheese over half of the omelet. Fold omelet over and heat through.
Makes 1 serving
Serving Size: 1 omelet
---

Ginger-Lime Tuna Steaks
6 (4 ounce) tuna steaks (can also use swordfish or halibut)
1/4 cup lime juice
2 teaspoons fresh ginger root, finely chopped
1 clove garlic, crushed
Dash, ground chili powder

Place fish in a shallow glass baking dish. Mix remaining ingredients together in a small bowl. Add marinade, turn fish once to coat. Cover and refrigerate at least 1 hour but no longer than 24 hours, turning occasionally. Spray grill rack with nonstick cooking spray. Grill fish 4 inches from heat over a medium heat for 7-10 minutes per side or until fish flakes easily with a fork. Frequently brush with remaining marinade while cooking. Discard any remaining marinade. Fish can also be broiled.
Makes 6 Servings
Serving Size: 4 ounces
---
Penne with Portobello Mushrooms
2 cups uncooked penne pasta
1 pound portobello mushrooms
2 tablespoons light margarine
2 teaspoons minced garlic
1/2 cup white wine (or substitute with broth)
1/4 cup grated Parmesan cheese
1/4 cup sliced green onions
Salt and pepper to taste
Cook pasta, drain and keep warm. Wash mushrooms and pat dry. Remove stems and chop both stems and caps. In large nonstick skillet heat margarine over medium heat. Add garlic and mushrooms and cook until mushrooms are soft. Remove mushrooms from skillet and keep warm.
Add wine to skillet and bring to light boil while scraping pan. Combine cooked pasta, mushrooms and wine sauce and toss to coat. Sprinkle with Parmesan cheese, green onions and salt and pepper to taste.
Makes 4 Servings
Serving Size: 12 ounces

---
Berry Calcium Smoothie
This smoothie provides almost 50% of your daily requirement for calcium (RDI for calcium is 1000 mg per day).
2 ounces frozen blueberries
2 ounces frozen raspberries
2 ounces frozen strawberries
1 cup nonfat yogurt- any flavor
2 tablespoons nonfat dry milk
1/2 cup nonfat milk
1/2 cup calcium-fortified orange juice
Combine all ingredients in a blender and process until smooth. You can add ice if desired.
Makes 2 Servings
Serving Size: 12 ounces
Are you Interested in Listing your Spa on this Top 5 Google Spa site?
Click Here for Details
---
© 2007
Synergy Web Design
- All Rights Reserved - Any reproduction and/or duplication of any web site content is strictly prohibited. Questions or comments - please
email us.