DaySpaLocator.com is a Top 5 Spa Directory Site on Google and Yahoo - This top placement will drive new customers to your Spa!
DaySpaLocator.com is consistently ranked in the top search results for day spas and spa destinations on Google, Yahoo, MSN, and dozens of other search engines.
Because of our top placement, we receive thousands of targeted and qualified unique visitors who are searching for a Spa destination like yours.

Actual ranking screen capture below from Yahoo and Google search engines showing DaySpaLocator.com in the #1 position: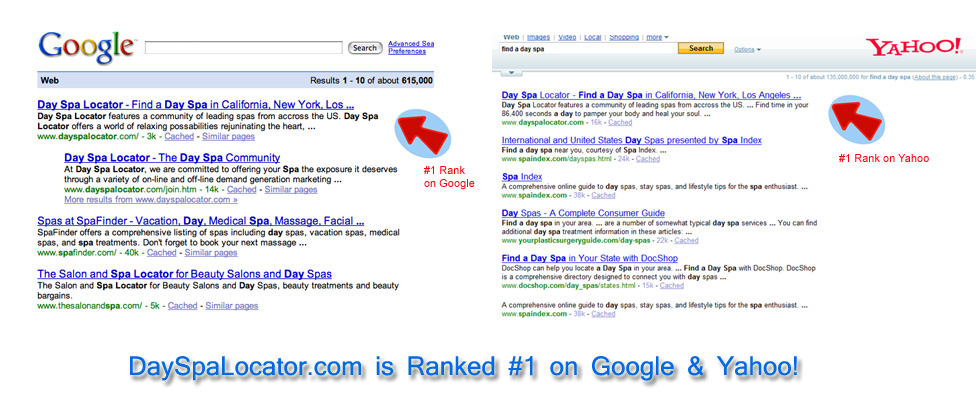 Typical top placement on Google or Yahoo can cost as high as $3 for EVERY visitor sent to your site - qualified or not!
A DaySpaLocator.com directory listing offers to you the same traffic that you would get from premium placement on Google or Yahoo at far more affordable flat-rate pricing,
regardless of the number of visitors sent to your site.
You get the broadest possible exposure for your day spa and the opportunity to attract new clients, at affordable and predictable flat-rate pricing.

We provide two easy subscription options with different levels of exposure to your Spa. To list your Spa,"Sign up Now!"
You will then fill out a simple form and your Spa information will be included in the DaySpaLocator.com directory within 48 hours!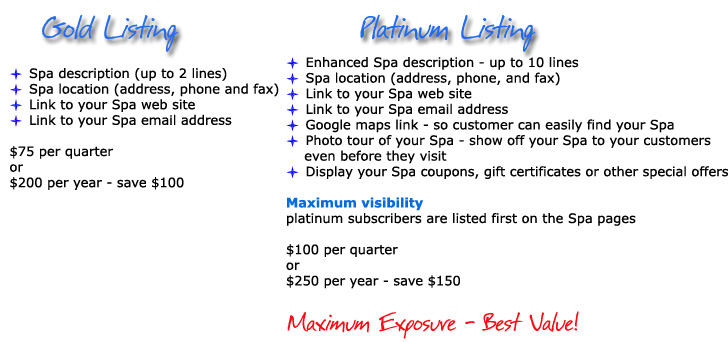 The California Day Spa
1234 Massage Court, La Jolla, Ca. 12345
Phone: (800) 555-1212 Fax: (800) 555-1212
Web Site: www.dayspa.com Email: owner@dayspa.com

Escape to a place where friendly smiles greet you. A world
where comfort and relaxation is primary. Where your time is
your own and your experience is sure to be unforgettable.
At the California Day Spa you'll discover the secrets of relaxation,
physical rejuvenation, emotional balance and well-being.




What our Customers are Saying:
"We've gotten dozens of referrals through Day Spa Locator. Our listing has paid for itself many times over, which is why we've listed on this site for over 4 years"
Spa Director, La Jolla, California

"We used to buy "pay-per-click" advertising keywords on search engines, but our premium listing on this Day Spa Locator is a far more targeted and affordable way to attract the same Internet traffic."
Spa Owner, Palm Springs, California

"We tried paying ridiculous amounts of money for search engine optimization and web banners and we still didn't see results. I paid a fraction of the price for a listing on Day Spa Locator and within a month we more than paid for the cost!"
Spa Director, Los Angeles, California

"I have been with Day Spa Locator since they opened in 2000 and it has been the best use of my advertising dollars yet! I recommend them highly to all Spas looking to grow their customer base"
Spa Owner, Phoenix, Arizona


---
© Copyright 2008 Synergy Design - All Rights Reserved - Any reproduction and/or duplication of any web site content is strictly prohibited.